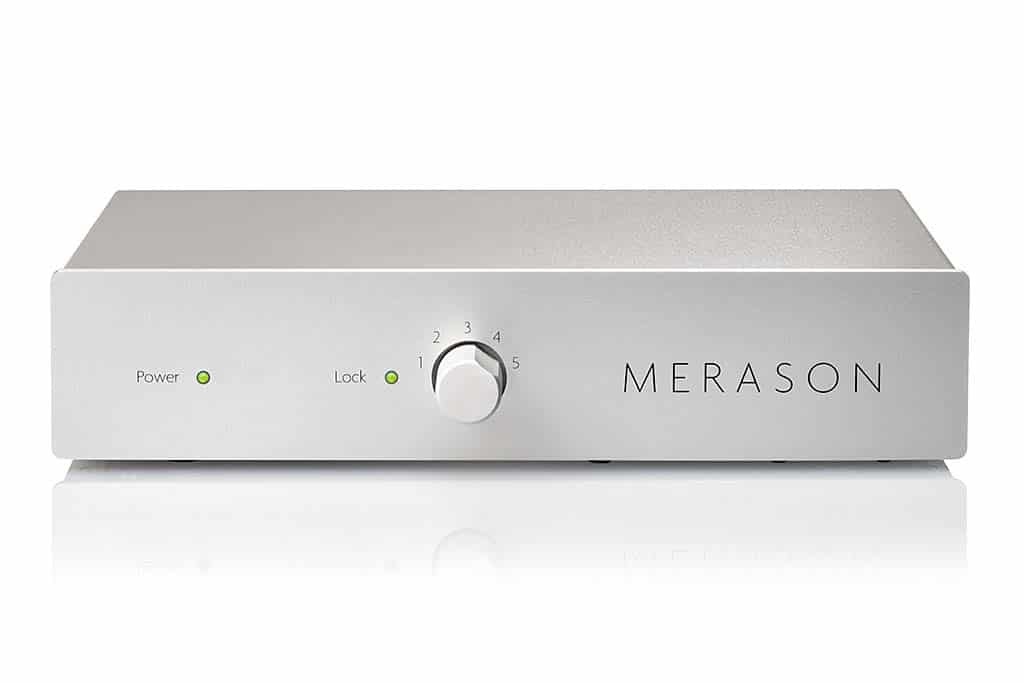 Binnenkort verwacht - Merason DAC1 en Frérot
De afgelopen tijd zijn we op zoek gegaan naar een nieuwe DAC voor de uitbreiding van ons assortiment. Muzikaliteit, natuurgetrouwe weergave en een goede geluidsafbeelding waren daarbij de belangrijkste criteria. In die zoektocht zijn we zondermeer geslaagd. Merason biedt met haar twee NOS DAC's wat ons betreft twee hoogwaardige producten aan waarbij je alleen maar kunt watertanden.
DAC1
The DAC1 is the first audiophile product from the Swiss manufacturer dafraud GmbH. It claims to offer music reproduction at the highest level of sonic quality. Optimized layout, by ear selected components for analog and digital circuits, reclocking of the input signal without resampling, discrete and balanced music path, class-A buffering, sophisticated selective power supplies make listening to music a unique experience.
€4.500
Reviews:
There are lots of excellent sounding DACs in this price territory. With an MSRP of $5,000, it's my opinion the Merason DAC-1 is a serious contender for best DAC at any price. Sonically, it competes toe to toe with the high priced big boys. 5K is not exactly loose change but I'd still be impressed even if the DAC-1 was substantially more expensive.
What you get is a product that seems to be built for the audiophile that is primarily interested in performance and doesn't require a lot of fancy features or gold-plated-with-a-screen visuals. I kind of missed a readout indicating sample rate, but whatever. Not a deal-breaker for me. Neither is a lack of DSD or MQA capability. And there are no user-selectable filter choices to mess with my head. Remote? Nope. The Swiss DAC that is NOT the Swiss Army Knife of DACs. And proud of it. Imagine that.
Herr Frauchiger hat sein Ziel – einen D/A-Wandler zu entwickeln, der es klanglich mit Schallplatte oder Tonband aufnehmen kann – tatsächlich erreicht. Der Merason DAC-1 begeistert mich, da er in allen Disziplinen überzeugen kann. Und noch viel wichtiger: Er ist keines von den Geräten, die zwar "alles richtig machen", letztendlich aber doch langweilen. Ganz im Gegenteil, der Merason DAC-1 gehört zu den aufregendsten und emotional ansprechendsten D/A-Wandlern, die ich bisher gehört habe.
Frérot
The frérot creates the big audiophile experience for the small budget! Equipped with the same technology as its big brother, the DAC1, it brings everything you need to bring the music stage into your living room – or your second home – or your houseboat – or to your workplace.
€999 
Reviews:
Smooth and Silky
The designers said their goal was to create a very analog-sounding DAC at a very reasonable price. With the Frérot, they have succeeded at this goal.
…
The Frérot DAC has an incredibly smooth and silky sound, which I find surprising from PCM files. It is also, as you would expect from the Swiss, a very precise and detailed sound. This is a great combination with the smooth and silky sound…
voices played using the Frérot sound natural, articulate, and beautiful. Individual instruments sound true to the sound of real instruments and they have good timbre and harmonics. Bass instruments played through the Ferot have a tight, fast, and very deep sound…